MENU

Home




For info on
How to bring
Kevin Hogan
to your Company
Motivational Speaker



© 2011
Kevin Hogan
All Rights Reserved







E-Mail Us


Kevin AT KevinHogan.com






Kevin Hogan
Network 3000 Publishing
3432 Denmark #108
Eagan, MN 55123
(612) 616-0732








Sex, Women and the Truth About What Women Think...
About Women
by Kevin Hogan

Page 8
For Marketers?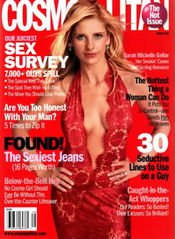 And if you run Cosmo? (Payin' Attention Kate White?!) You have nothing to worry about. Women will continue to buy the best selling magazine in the world because they are just as attracted to the cover girl as men are.

Only difference is the women will not always be happy about what they are attracted to because of societal/cultural pressures...and will often be confused by their own feelings toward that cover girl.

On a serious note, I do talk to a lot of women who struggle with the "OK-ness" of all of this. I mean if I looked at Dave Lakhani and said, ooooooooooh gotta have that, I'd have some challenges. (So would poor Dave)

Women are very different than men.
We're universally attracted to them (except by gay men).

Problem is, nothing in culture should suppress real feelings and thoughts to the point where you have to justify your own thoughts and feelings when all they are is thoughts and feelings. Walk into a society with a bunch of rules like the US of A and you get women with big question marks running around their brain.

As much fun as I like to have with all this stuff (and it is fun figuring out who we are at the deepest level) it's socially important to realize that social norms don't match internal feelings and it causes a whole bunch of problems, and someday society will mature to the point (and Europe is better here than the USA) where you can be what you are and say what you think and feel.

Dang...that article didn't hurt half as bad as I thought it would...




---

Attend an online e-course with Kevin Hogan!

Learn about Kevin Hogan's Internet Marketing & Business Building E-Course

Details:
About Internet Marketing & Wealth Building






---


Kevin Hogan
Network 3000 Publishing
3432 Denmark #108
Eagan, MN 55123
(612) 616-0732






Cool?
Get Coffee with Kevin.
Articles, events & more!
+ 2 Free e-books today!
E-zine delivered Mondays.

"Once again, in a world overloaded with information, this is the only email worth reading this morning. Thanks!"
James Cochrane, Coffee with Kevin Hogan reader