MENU

Home




For info on
How to bring
Kevin Hogan
to your Company
Motivational Speaker



© 2009
Kevin Hogan
All Rights Reserved







E-Mail Us


Kevin AT KevinHogan.com






Kevin Hogan
Network 3000 Publishing
3432 Denmark #108
Eagan, MN 55123
(612) 616-0732








Sex, Women and the Truth About What Women Think...
About Women
by Kevin Hogan

Page 6
The brain doesn't just register subliminal information, it PROCESSES it and causes attraction or repulsion. That's a fact. (Darn cool one, too)

And therefore it influences behavior.

I'll come to in a second...
Whatcha Lookin' At?
Back to nude photos...as delicately as I can...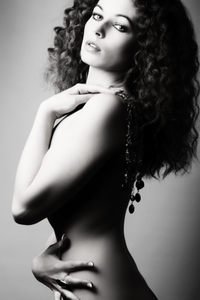 Men look at the face first.
Women don't.
I didn't figure this one. I guessed the opposite. Goes to show what I know until I see the data....
Other fact of interest about women?
If the women subjects were using hormonal contraceptives, they looked at the couples..."below the waist" first.
If they were NOT using hormonal contraceptives they looked at the context first.
That's worth a re-read too....
More?
If there were pictures of couples having sex in the mix of photos, women spent much more time looking at them than did men.
That one I guessed right. ("Romantic" novels vs. photos thing.)
Forget first glances.
Who looks more beneath the waist?
Turns out neither.
Now when you take all of this research and piece it together, we learn a few things about women...



Continue: Page | 1 | 2 | 3 | 4 | 5 | 6 | 7 | 8 |


Kevin Hogan
Network 3000 Publishing
3432 Denmark #108
Eagan, MN 55123
(612) 616-0732


Cool?
Get Coffee with Kevin.
Articles, events & more!
+ 2 Free e-books today!
E-zine delivered Mondays.

"Once again, in a world overloaded with information, this is the only email worth reading this morning. Thanks!"
James Cochrane, Coffee with Kevin Hogan reader