MENU

Home




For info on
How to bring
Kevin Hogan
to your Company
Motivational Speaker



© 2009
Kevin Hogan
All Rights Reserved







E-Mail Us


Kevin AT KevinHogan.com






Kevin Hogan
Network 3000 Publishing
3432 Denmark #108
Eagan, MN 55123
(612) 616-0732








Sex, Women and the Truth About What Women Think...
About Women
by Kevin Hogan

Page 2
Only Two Types of 'Attractive'. Really.
FACT: Women don't think in terms of other women's beauty in six different ways.

There are two ways.
*Wholesome
*Sexual-Sensual
That's it.
End of story.
No more.
Nada.
Two.

Women see two types of attractive women. Wholesome and sensual.

Right away you can see that with those two points, and they aren't on a continuum....well...that's going to be fuel for some fire somewhere along the way...and we'll come to that...

Among the women analyzed by the 258 participating women were Lindsay Lohan, Katie Holmes and Uma Thurman.

When Uma Thurman was rated as "classic beauty," for example, it turns out she was also rated as "cute" and "girl next door."

The same group saw Katie Holmes as wholesome...

Lohan, made the other list.

More interesting, the more seductive the women were dressed or undressed, the more bored and disinterested the participants reported they were in those women.

(This is somewhat of a clash with other research released this year that found when women look at attractive women they feel worse about their own self-image and appearance. i.e. disinterest is not typically associated with feeling worse about one's self.)

Minimize the skin factor, put on some clothes and a nice smile, and the women were perceived in a much more positive way by the 258.

Now, remember this is what women say they feel. In research we call this self report.

However, there's other research that's pretty fascinating.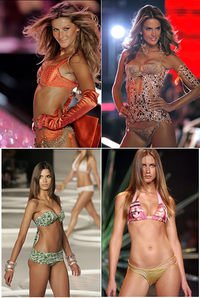 FACT: In a study done by Dr. Robyn Goodman at U of Florida, she reported that indeed women (in general) "hate" the Victoria Secret models but go to great lengths to look like them.
Now, all of that is interesting but it's also all based on "self report." In other words, that's what people say to the researcher or write down on a piece of paper.
We don't really know if that's true or if it's true when women are around other women, or, when they are in the living room reading the magazine by themselves or when their boyfriend is reading the magazine and they are watching him read it.
Make sense?
As I've shown time and again, self report is sometimes better than no report but actual behavior and brain activity is the whole ball of wax.
What to do?



Continue: Page | 1 | 2 | 3 | 4 | 5 | 6 | 7 | 8 |


Kevin Hogan
Network 3000 Publishing
3432 Denmark #108
Eagan, MN 55123
(612) 616-0732


Cool?
Get Coffee with Kevin.
Articles, events & more!
+ 2 Free e-books today!
E-zine delivered Mondays.

"Once again, in a world overloaded with information, this is the only email worth reading this morning. Thanks!"
James Cochrane, Coffee with Kevin Hogan reader