Beautiful Women and the Difference Between Success and Failure
Kevin Hogan

Page 3
I return to Britney Spears. She is almost always number one in people searches of longer periods than 90 days.
She seemed to be like so many others...an overnight success, no time in, she simply has the cute factor. Right? You'd think...and you'd be wrong of course...
She had a few things in common with a lot of other successful women entertainers.
* Spears was a competition-level gymnast as a kid.
* She was a singer in the Baptist church she attended.
* She was born in Louisiana...the south...where people aren't stuff-shirted and politically correct....where real is real.
* She did a boat-load of hours with the NYC School of Performing Arts.
* She has talent and charisma.
And all of that would have gotten her nothing...
Spears was driven and she was driven to brand herself.
And then she did it well.
...you can think of it as "image" or "persona"....or as "brand", and for the sake of this article, they are close enough to being one and the same.
...something you want to think a lot about for yourself, especially if you aren't a hot entertainer...
Everyone loves to hate this girl and sometimes with good reason, but from the time she was a micro-kid til today, she was always competing to be a winner.
She did Star Search with Ed McMahon when she was 12 years old...when you compete with people who are older, smarter and better than you are....it's hard not to ...get good.
Don't like how Britney sings? A lot of people say that. Maybe even some of the 20,000,000 google searchers each month say that too.
Brand, style, personality usually require a level of intensity that will bring along as many detractors as there are supporters.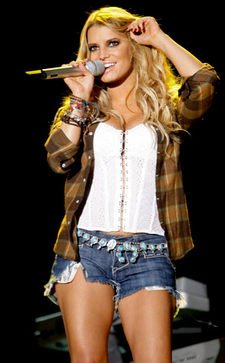 Flip the dial to a slightly older, more ditzy and arguably more beautiful Jessica Simpson.
Good singer...in addition to her girl next door brand...her look.
What's her story?
Well...um...
* She was born in the South....in Texas.
* Her Dad was a minister...in the uh....Baptist Church...she sang in the choir at the Church.
* Her first pro stuff was Gospel. And she was good.
* Like Britney Spears, she failed at getting on the Mickey Mouse Club when she tried out there.
* She lost on Star Search with Ed McMahon....
* She quit high school and got a GED.
But she has image...style...personality...brand that is talked about by other people. She captivates the imagination to the tune of about 10,000,000 plus searches per month.
Let's take a little peak at the brand that's even bigger than Simpson and unless she screws up completely...will easily achieve great and longlasting success.
Because her brand is more clearly defined, she should continue to be #1 or close for a long time...and you can do the same thing...but it will require about one day to put it all together...

What makes Megan Fox successful...and Carrie Prejean not so much? ...and YOU figuring it all out?



Continue: Page | 1 | 2 | 3 | 4 |


Kevin Hogan
Network 3000 Publishing
3432 Denmark #108
Eagan, MN 55123
(612) 616-0732

Photos appear under license with PRPhotos.