Hit Their Hot Button
Sales and Marketing Secrets
by Kevin Hogan

Page 4
Evergreen Marketing
Evergreen marketing refers to the fact that I'm giving you proven concepts (that never stop working) based on the nature of the people you want to do business with.

Which is reminding me of DISASTER TWO. Are you doing business with the right people?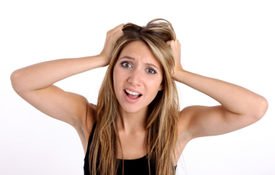 Along the way, you pick up people that you really DO NOT want to be doing business with. These are people who will cause you far more pain than you can imagine.
When you run into someone who you KNOW is going to be "more work than they are worth," then do NOT do business with them.
Use THAT TIME and energy to focus attention on people you DO want to do business with.
"I want to talk to Kevin to ask him a couple of questions about the upcoming course/event/book/program and just make sure it's right for me."
Instructions to person picking up the phone:
"No."
If the person doesn't get the relationship yet...if they haven't figured me out, who I am and what it is I do for people I care about, GO TO THE OTHER PERSON'S EVENT and drop me an email next year.
Pretty much everyone knows I blew out my right vocal cord in 2001 and since then my voice gets pretty weak pretty fast. It SOUNDS good but I am literally under orders to speak only so many hours per week.
I remember getting an award at the National Guild of Hypnotists that year. I was starting to improve but I had just been to the Doc and I was on a "Speak only when absolutely necessary" basis.
Thankfully, the audience understood and I got the most cool award I could ever imagine. I whispered, "Thank You" and got a standing ovation that still brings tears to my eyes when I think about it.
In retrospect, I am glad…because I had a LOT of people to thank. No one wins these kinds of awards without help along the way…and…I probably would have screwed up and forgot to mention someone.
KEYPOINT: In the future you should make a conscious effort to try and understand why something is done instead of just copying what you see someone else successfully doing. There's always something more beneath the surface that you can study and learn from.
What is Essential to Include in Your First E-mail?



Continue: Page | 1 | 2 | 3 | 4 | 5 | 6 | 7 |

Kevin Hogan
Network 3000 Publishing
3432 Denmark #108
Eagan, MN 55123
(612) 616-0732

Stock photography on this page appears under license agreement with istockphoto.com/Stockphoto4u.