MENU

Home




For info on
How to bring
Kevin Hogan
to your Company
Motivational Speaker



© 2010
Kevin Hogan
All Rights Reserved







E-Mail Us


Kevin AT KevinHogan.com






Kevin Hogan
Network 3000 Publishing
3432 Denmark #108
Eagan, MN 55123
(612) 616-0732








Hit Their Hot Button
Sales and Marketing Secrets
by Kevin Hogan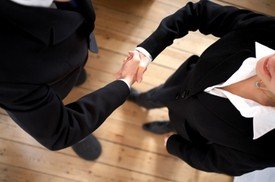 Itís so easy to fail in business of any kind.

And, the easiest place to make a living (on the Internet) is the easiest place to fail.

Iíve watched numerous friends over the years succeed dramatically in business.

Some Iíve coached. Some Iíve simply had the fun of watching them do well.

Iíve also watched a hell of a lot of people run their wallet into the ground because they failed to do three things.
They get sucked into "Easy Money" Schemes

They invest far too much money and not enough time into their business.

They donít market themselves (either because they choose not to or they do it poorly).
Today we talk only about marketing.
Is there such a Thing as "Easy Money"?
People who want to participate in Easy Money Schemes will ultimately figure out that the money is rarely in the downline. Itís rarely anywhere, except in the service you provide to your client and customer.

And my friends often miscalculate just how many people you must help to succeed in business.

And that is only one of many miscalculations they make.

They go to a seminar, hear the gal at the front of the room tell them how EASY it is and then they go home all fired up.

Itís not Easy!

Serving people is work.

Itís writing Coffee w/ Kevin Hogan every week and caring about the value, and the experience you get from Coffee.

Not everyone is destined to publish a text ďmagazineĒ each week. (Does the term newsletter do Coffee justice?)

So people try and adopt the model I use in business. And if they get all the pieces, they will do very well indeed.

But...

Letís look at success and failure when starting a proven model and what happens along the way, at each step where people screw themselves up. (This could take a few months, this article is part one!)

To find out where the money is (and is not), turn the page...



Continue: Page | 1 | 2 | 3 | 4 | 5 | 6 | 7 |

Kevin Hogan
Network 3000 Publishing
3432 Denmark #108
Eagan, MN 55123
(612) 616-0732


Cool Article?
Get Coffee with Kevin.
Articles, events & more!
+ 2 Free e-books today!
E-zine delivered Mondays.

"Every week, Coffee with Kevin Hogan is a must read. I particularly liked your article on the Can-Doers and the No-Doers. Thanks!"
Sharon McGann, Sydney