Your Summer Personal Achievement Plan
by Kevin Hogan
Page 4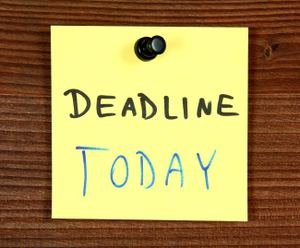 Step Four: Set a General Timeline for Completion
This part of the process has the potential to fuel your efforts, or stall them completely.

There are soft deadlines: "I will write a thousand words this Tuesday and everyday."

There are hard deadlines: "I will write 7,000 words this week by Sunday night."

The hard deadline gets done like the grocery store gets done. There is ZERO room for futzing around here. It GETS DONE. You can write 2,000 Monday, 500 Tuesday, 1250 Wednesday but when it gets down to the end of the week your brain now learns that YOU are in charge. YOU are the boss and YOU will decide in advance what will happen and YOU will make it happen...like getting groceries.

Successful people complete projects LONG before ANY DEADLINE is even NEAR.

Coffee with Kevin Hogan is published 45 weeks per year. In weeks it's published, it gets written by Sunday night.

Period.

There is no, "golly what if it doesn't?"
"...what if I fail..."

"...what if I do a bad job...."
Coffee with Kevin Hogan averages 16 hours of my time per week.

A week like this week where there is a promotion that is extremely important for readers, can require 30 hours per week on top of a 50-hour week.

Twice or three times each year, Coffee won't actually get out til Tuesday morning. A couple times each year, it won't get done in a specific week.

That does happen and I don't like it, but you don't freak out about it.

People get sick, people go to the hospital. They often die. You can control everything you can control and nothing that you can't. That's why Coffee is 45 issues per year. On one hand, setting a deadline can be incredibly motivating. It can urge you to stay focused, push yourself to work harder and smarter, and be proactive in overcoming obstacles.

On the other hand, a deadline can cause immense impatience and frustration if things don't move along at the pace you expect.

Read the last word in the sentence above again: EXPECT.
The Effect of Expectations
Our expectations can get us into trouble more often than we'd like to admit. This happens most commonly when other humans and technology are not fully considered.

If we expect something to go well and it doesn't, we feel angry and disappointed. If we expect results by a certain date and it doesn't happen due to circumstances beyond our control, we can lose all hope and give up because it seems futile to continue. I'm sure you've experienced situations like these before - most of us have.

While it's favorable to set a GENERAL TIMELINE for completion of your goal, you would be wise to DETACH EMOTIONALLY from any firm expectations, especially as they relate to OTHER PEOPLE.

What do I mean by "detach emotionally"?

I mean don't get hooked on the idea of certain things happening at a certain time- especially if those "things" are largely out of your control.

Set a timeline for completion of each of your ACTION Sequences, rather than the results you see from your action sequences.

Also, be sure not to set unrealistic timelines. Don't create more stress for yourself by taking on a massive project and expecting to complete a one year project in a few days. Consistent powerful actions will be more effective than getting burned out.

And most people WILL and DO burn out.

All that said, once you set a timeline, do what you can to stick to it.
If someone invites you to dinner...NO.
If someone asks you to go to a movie...NO
If someone says they need to talk about ....NO.
It was either something important enough to DO or NOT.
Your conscious mind is SMART.

Your nonconscious mind is POWERFUL.
Write this down and remember it forever:
POWERFUL will always beat SMART at the end of the day.
Say "NO," early in the day so you can get stuff done at the end of the day.
This is a really elementary action that you won't have to do six months from now, but DO THIS FOR NOW....
List your Key Action Sequences.



Continue: Page | 1 | 2 | 3 | 4 | 5 | 6 | 7 | 8 |



Kevin Hogan
Network 3000 Publishing
16526 W. 78th St. #138
Eden Prairie, MN 55346
(612) 616-0732

Article photo on this page appears under license with istockphoto/tupungato.