7 Marketing Techniques
to Get the Fence Sitter
Off the Fence
by Kevin Hogan
Page 2

5. The "How Did You Feel?" Strategy

Regret is a powerful feeling.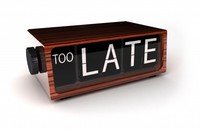 What most people don't know is that when people SERIOUSLY consider an opportunity, evaluate and then pass it on it, even if it was 50/50 they rarely give the opportunity a second thought next time it comes up.
Read that again.
No one knows this. No one thinks about this. No one studies this critical phenomena. Now you KNOW IT. Obviously almost no one uses this out there.
Here's a simple application. More complex applications are more effective but this is a "sound byte." To overcome that:
The "have you ever missed (a big sale, a valuable opportunity, etc.)?..." strategy tells your prospects to actually mentally answer the question and think back in time. They will likely feel that regret that they anticipated last year or whenever.
Now, when you present your special product offer, they will think twice about passing it up and you will have overcome one of the most powerful pieces of invisible resistance in human behavior.

6. The "Perfect Timing" Thinking Process
Back in the old days when I was fund-raising or selling advertising, a bit of creativity in thinking was required. The Perfect Timing Thinking Process is rather cool.
I haven't utilized this in two decades, but it's a good way to get people to look at a commodity-type product or service today.
The "(a year, a month, a day or a full date) is the best time to (your product's benefit)..." process tells your prospects to read more and see why it's the perfect time to gain their desired benefit.
It could be because you're having a sale right now, you just released a new and improved version of your product, your offer of a free trial, you're offering an easy payment plan, etc.
Cool?

7. The "Stop Succumbing to Fear" Approach
This is a life philosophy tactic which I have and live. It's an approach to thinking that more people need to adopt. It is also an effective way to get people to ponder you, your products, services, etc.
Why does it work?
Because no one else uses it.
The "stop being afraid and live the kind of life you deserve..." strategy tells your prospects that fear is holding them back from improving their life, solving their problems and reaching their goals.
If correct, you can tell them it's natural to be afraid of failing, but not to let that stop them. You can tell them about a similar circumstance where you were scared at first but accepting that risk really paid off.
I like this way of thinking and I like to utilize it in my promotions.

Want a few bonus tactics?
8. The "Autopilot" Strategy
You so need to utilize this thinking process more often.
The "it's time you put your (a subject related to your product) on autopilot..." strategy tells your prospects they need to quit trying to gain their desired benefit manually. You can tell them that it's hard work, takes up more of their free time or more expensive in the long run. If accurate, you can use phrases like: it will work by itself, never mess with it again, etc.
People NEED products and services that bring these results and the autopilot strategy can get them to experience the results NOW.



OK...here's one more...the "Reverse Psychology" Strategy...



Continue: Page | 1 | 2 | 3 | 4 |

Kevin Hogan
Network 3000 Publishing
3432 Denmark #108
Eagan, MN 55123
(612) 616-0732