The Key to Success:
The Ultimate Secret
by Kevin Hogan
This article contains one of the few Ultimate Keys.

About 15 times per year, I put a "$10,000 Key" in an article.

The single most profound piece of information for achievement and success that I've ever written about is in this article. Perhaps you will pass it along to your friends....

Ultimately meaning in life is generated from our striving for fulfillment, the relationships that we have and the significance of our work.

Today we look at the Ultimate Key in the context of your future work.

Lots of people really want to have a small Coffee Table Business but they don't know what to do...and when offered something, they often jump before looking. Let's look at a couple of common possibilities and their potential as we approach The Ultimate Key...
A Business with a "Support System"?
I think about the Genesis of the United States when entrepreneurs were the vast majority of "job titles" from North to South. Getting back to those basics is where it's all at.

Your intention is pure.

You truly want to do something in business to make your life mean something.

Maybe...You pick something that is not too big too handle, sounds fun, interesting, challenging or something that has a support system...like... Network Marketing. Would that be a good choice for you?

I'm not a big fan...why?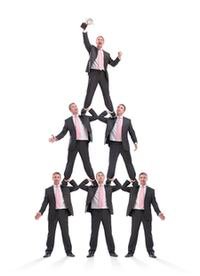 We've all been approached by someone close to us who joined a Multi-Level Marketing business, and they want to sell you something, or better yet, have you join as well, and become part of their "downline".
It's a not-so-great choice for a business until you've already succeeded in business or are a top 2% salesperson. Network Marketing has too many drawbacks for people who haven't been successful in business. Avoid it. I can't tell you how many people have told me they were going to make millions only to make their way to bankruptcy court.
Exceptions?
You bet. I've seen some people do real well with PrePaid Legal and Primerica, which both have solid business models and some advantages other products/programs don't have...but I'd still pick an entrepreneurial venture. Save Amway for later. There are better Simple Business Models that are much more likely to succeed for you.
Another possibility?
Affiliate Marketing
This is interesting because it is something anyone can do, begin, and create a long term successful business in with zero start up money, no monthly obligations and all you really need is integrity.
Internet affiliate programs are some of the easiest, fastest ways to build a significant income. They DO qualify as a true entrepreneurial venture.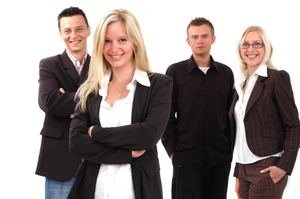 In other words, it's YOU who determines whether you will succeed or not.
One thing I like about Affiliate Marketing is CONTROL.
It's hard to say a person has 100% control in anything in life, but on the Internet you have about as much control and self-determinism as you can get in life.
So, for your first venture, you pick a business that doesn't require recruiting. (This way your friends still love you at Christmas.)
Ultimately you pick SOMETHING and begin...
You start the "going into business process".
The thinking process goes OK.
The planning process goes OK.
The first phone calls or set of actions are uncomfortable.
Uh oh....
Everything is Going Fine Until...
I was mentoring a friend who was getting ready to start a service business earlier this week.
"My marketing plan is to hang those things from door knobs. I'll service the people who call in."
"You'll go broke."
That hurts so bad to say that.
It hurts worse to hear it.
The person thinks you're (me) "being negative".
No.
Just saving them $100,000, bankruptcy and their future.
It takes almost no time to borrow $100,000, start a business and watch it die a quick death, and then wonder why it happened, or what went wrong.
Keypoint: Where things go wrong is at the intersection of you and your discomfort.
Lack of money is not an issue online. It is an issue in almost every other business model.
But one of the biggest problems in success in life, is knowing what to do when you are afraid.
When you do something you aren't familiar with, or comfortable with, or you inherently don't like, you rarely will find the stick-to-it-iveness to continue.


So here is the Ultimate Key...

Continue: Page | 1 | 2 | 3 | 4 | 5 | 6 |


Kevin Hogan
Network 3000 Publishing
16526 W. 78th St. #138
Eden Prairie, MN 55346
(612) 616-0732

Coffee cup photo appears under license with Stockexpert. Article photos appear under license with istockphoto/sturti and istockphoto/doram.