The Second New Law of Persuasion
Threads in the Shadows - Page 4


By Kevin Hogan

Page 4



Let's drive some of these concepts deep into your brain so they stay there forever.

You're at a nice enough hotel with me. We're hanging out in the suite which happened to be on the main level. I'm busy working on a project at the desk.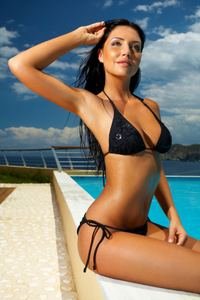 You're looking out the window and there is this attractive raven haired beauty out there by the pool all by herself.
You are sitting there at my computer reading this article but there she is right out there.
I want you to get a real sense of what your chances would be of hearing yes if you walked out and asked her to dinner. Just the three of us.
You walk out there and of course she says she is busy tonight but thanks for asking.
Later that evening you convince me to go to the sauna at the spa. This takes a bit of work but you finally pull me away from my project and off we go.
We walk in and guess who we run into?
We say hello. She has long forgotten about you and the invitation. She gets invited out 10 times every day. You were a face in the wilderness.
We all sit back at various corners of the sauna getting hot and sticky. I complain about the heat. She smiles. You laugh. We all exchange our names, where we are from, what we do for a living, talk about how nice it is outside, why we are in town, what convention we are working and on and on. 10 minutes of polite chit chat.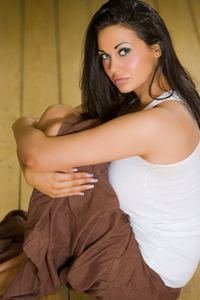 You give me that look that wonders if you should ask her to join us for dinner.

I nod knowing what the likely answer is.

You are a bit clumsy as you say, Would you like to join us at the steak house for dinner tonight?

She says,

What time?

You are dumbfounded that this woman turned you down two hours ago and is now, essentially agreeing to have dinner with us.

Not wanting you to be the only person I look at across the table tonight, I say, 7 PM. Reservation is under Hogan.

You begin to talk and I am forced to cut you off because nothing good can happen at this point.

I have to get back to preparing my presentation for the morning. Meet us at 7 sharp. Text me if anything comes up.

She asks for my number. I tell her to call my phone right now. Yes people keep their phones with them in the sauna.

My phone rings.

See you tonight.

Parting smiles are given. I get up. You get up. We leave.

Dinner is pleasant.

End of story.

How did it happen and feel right in the second scenario when the first failed?

The Law of The Synapse: Applied

1) Shared experience of sitting in sauna.

2) Idle chit chat before asking for agreement.

(Silence would have also been almost as effective.)

3)Similar garments being worn. Towels. Gray. Rather dull stuff.

4)Everyone was heard as to why they were here at the convention, what was going on, capturing the names, and so on. More threads.

5) She keyed in my cell phone as she has all people she trusts and cares about that are currently in her phone. More threads.

6) You didn't ask for her number. No reactance triggered.

7) The implied message of calling if a mind is changed is given thus removing any reactance or resistance.


You only need one thread to gain significant agreement. When a tapestry is woven there are only a few triggers for someone to say no. Those were all erased when you and I left the sauna.

We had a nice conversation.

A real conversation.

No lines. No concern about what words need to be said. Just threads. The little tiny things that make us all feel comfortable when we identify with someone else. It's not about friendship. It's identification. The Law of the Synapse.

More on this next week.

Oh, and dinner was pleasant as well. You got all the attention and stayed for drinks after I went and crashed. I can not wait to find out what happened after I left.


---

Reserve your spot now!
Kevin Hogan Personal Appearances, Classes, Seminars & E-Courses
See Kevin Hogan "Live" in person, or participate in an online E-course with personal attention from Kevin Hogan! Attend an online tele-seminar!

See All Upcoming E-courses and Events
---
Kevin Hogan
Network 3000 Publishing
3432 Denmark #108
Eagan, MN 55123
(612) 616-0732

Photos appear under license with Stockexpert.