Magical Messages that
Unlock the Mind's Door
by Kevin Hogan

Page 4
Comfort & Familiarity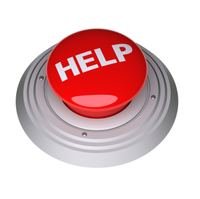 Just so you don't think I was unreasonable the first go 'round with Wells Fargo, I called Wells Fargo, on February 1, 2010. I spoke with people in three states, including the office up the street.

"You'll have your 'corrected 1099' in 10 business days."

"Thanks I appreciate it."

I hang up.

Bullsh..... I grab my calendar and write down on March 15, "Call Wells Fargo for 1099."

There is almost no chance that people without incentive to work or control of a process will do anything.

So, when my 1099 didn't arrive, I gave it a few more days and called.

"I sure am sorry, Dr. Hogan, you'll have your 'corrected 1099' in 10 business days."

"Thanks, I appreciate it."

Yeah... you know what happens next. I hung up and immediately wrote down on the calendar to call on 4/1 and also note to write a letter to attach to the incorrect 1099 what happened and enclose the phone number of the Wells Fargo people the IRS can call to confirm my story.

The story does have a pseudo-happy ending because I CALLED Wells Fargo April 1 and took care of it myself.

When you are CF-OCD, you simply don't get surprised by these things.

NOTHING gets done if there is no incentive or avoidance of pain attached because people....are human... and human nature requires comfort and familiarity.

Though theoretically possible, I heard nothing but surprise as I had the bankers look at the various certificate of deposit origination papers confirming that my business has a significantly different tax ID number than does the individual Kevin Hogan.

And of course, when I opened my account that day, I knew that if I put my social security number on the form with my tax ID number there was a 50/50 shot that the guy would get it wrong and input the wrong information.

Again, it was anticipated.

Human nature is very predictable.

Being "wrong" and watching people actually do their job is one of the great pleasures in life.

I just wish it happened more often....



THE Most Powerful Magic Words
...so, if I can tell you that:
"I will do 'it' for you, and it will be done swiftly and accurately."
... AND you BELIEVE it, these are some of the most powerful words (and concepts) on the planet.

These are The First Five Secret Ingredients.

1) They don't have to do it.
2) You'll take care of it.
3) They don't have to worry or be concerned.
4) You'll worry for them.
5) You'll do the dishes.


If I believe that when you say it to me, I'll pay any price.

I desperately want people to make me feel COMFORTABLE & SAFE and when they do, I'm just like you, I am like a magnet to them...




---

Reserve your spot now!
Kevin Hogan Personal Appearances, Classes, Seminars & E-Courses
See Kevin Hogan "Live" in person, or participate in an online E-course with personal attention from Kevin Hogan! Attend an online tele-seminar!

See All Upcoming E-courses and Events
---


Return: Page | 1 | 2 | 3 | 4 |


Kevin Hogan
Network 3000 Publishing
16526 W. 78th St. #138
Eden Prairie, MN 55346
(612) 616-0732

Coffee cup photo appears under license with Stockexpert. Article photo appears under license with istockphoto/klenger.