STOP Making the Really
Dumb Decisions
Kevin Hogan

Page 3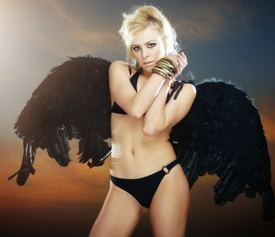 If you said the second dice (die) on the right, you are not correct. The decision was a *terrible* decision.
There are six possible results with each dice.
With the first dice, there is an equal chance that one of these results will happen:
1: (-100)
2: (-100)
3: +50
4: +50
5: +50
6: +1000
---add all the numbers up and get a total---
TOTAL (potential) VALUE OF THIS DICE: $950
The second dice?
1. (-50)
2. +100
3 +100
4 +100
5 +100
6. +100
----add all the numbers up and get a total---
TOTAL (potential) VALUE OF THIS DICE: $450
It's not even close.
You'd be crazy not to roll the first dice. The first die is worth more than twice as much as the second!!!
And in life, we are faced with that kind of decision every day.
What?
It's true.
Sometimes life gives you choices for great success or a bunch of marginal results.
Your Decision Making Skills Put to the Test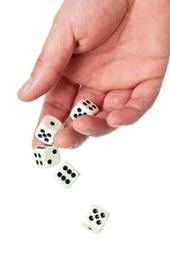 People aren't coming to you with dice to roll everyday...or are they?
Sure they are! The big difference in all the scenarios at the beginning of the article (home, car, married, divorced, etc.) is that in each decision the various possible things that could happen as a result of your decision are not equal.
In other words, if you get divorced, you get rid of one problem and acquire a dozen others. (Child custody fights, court, children become maladjusted, kids see the worst in their parents. Kids get an entirely new world view and develop insecurities that last a lifetime. Both live on one income instead of two. One typically becomes dependent on child support. Neither get a better job because you are now at the mercy of a child's schedule and not a family's schedule...develop new pessimistic views about marriage and life in general... etc. etc.)
Make sense?
This doesn't mean you should not get divorced. It simply means that each side of the dice has different values and you need to get the whole picture, not just what's there for today.
Get married?
You eliminate a bunch of problems and get some good stuff, and, pick up more problems and hopefully get a bunch more good stuff.
Decisions are by nature, choices between trade-offs and unforeseen events on top of those trade-offs...and to make a decision you have to figure out what those unforeseen events are and the likelihood of them happening.
OK, you could go on here for quite some time in refining what a good decision is and all the emotional problems that happen in the process of making decisions, but I really want to give you a process that shows just how to make a decision. We'll talk more about unseen problems of decision making in the other article in Coffee this week.
Here's a simple way to make a good decision.
Step One: FRAME YOUR DECISION
Find out how to precisely FRAME YOUR DECISION!



Continue: Page | 1 | 2 | 3 | 4 |


Kevin Hogan
Network 3000 Publishing
16526 W. 78th St. #138
Eden Prairie, MN 55346
(612) 616-0732

Photos appear under license with istockphoto/Zhenikeyer, istockphoto/eyewave and Stockexchange.