The Decision ...to Succeed
by Kevin Hogan

Page 4
Fear
Fear can be the most crippling, unrelenting, paralyzing, scary emotion you will ever experience, if you let it. Fear plays a part in our every day lives and it can keep you from failing, flailing, falling or from a fling.

And...it will keep you from taking risks. It will push you back toward that which is familiar.

Consequently, it will keep you from successful living.

So how do you overcome and vanish fear?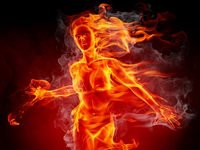 You have to get angry and walk through the fire of fear.
Are you afraid of heights?
Climb a mountain.
Are you afraid of meeting someone who could become a new boyfriend or girlfriend?
Go strike up a conversation with interesting people every chance you get.
Do you fear public speaking?
Sign up for The Professional Speaking course this month.
You can decide to be a person of fear or you can decide NOT to be.
Fear can be your end, or it can be your beginning.
If you decide fear is going to rule your decisions about how to succeed or not, then you won't, so hop in the recliner and watch old Starsky and Hutch reruns. But if you decide that fear will be your motivator to overcome everything that may hold you back, then you will be on top in a short amount of time.
Here's a secret: It's not as far to the top as people think it is....not anymore!
Fear = Limitations
Fearless = Endless Opportunity
Next week I'm going to give you a few exception to the "rules" but for now, grab and digest the rules.
How do you create an incredibly successful life?



You?: Page | 1 | 2 | 3 | 4 | 5 |


Kevin Hogan
Network 3000 Publishing
3432 Denmark #108
Eagan, MN 55123
(612) 616-0732

Photos appear under license with Stockexpert.