Stop Being the One Who Screws Up Your Life!
Eliminating Bad Decisions
by Kevin Hogan
Page 4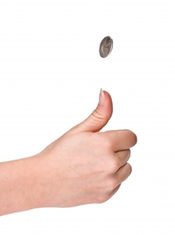 "Sure it is. OK, let's flip his coin and look at the other side. What is good about you and the kids being with him?"
"Not much."
"Come on. Play with me. He hates the kids? He hates you? "
"No, of course not. He loves the kids. He's a good dad, you know that. He loves the kids. They mean everything to him."
STEP I: When emotions are involved, do NOT try and find counter-emotions whether doing this yourself or with someone else. The process doesn't need resistance, it needs to represent reality.
"What else?"
"You mean that is good about him? Ugh...he puts the toilet seat down most of the time."
"Come on...does he love you?"
"Fine. He says he does."
"How often?"
"What?!"
"Men never say, I love you. How often does he say I love you?"
"Ugh. I don't know....five times a day."
"Really? I hear it five times a week....what about doing stuff, do you like to do stuff together ever? Do you go hiking, play games, watch TV, go to church...?"
"It's hard to do a lot of stuff together because we both have opposite schedules to take care of the kids. We both want to have a parent at home and not someone who could care less...you know that...and so yes, we do stuff. We play games and watch some shows together, go out to eat once a week...stuff like that, nothing fabulous though, like trips to Paris or things like that."
"Sex life?"
"What does sex life have to do with arguing?"
"Nothing. It has to do with catching the train to Texas."
"It's good. You know that, too."
"Four times."

"Four times? Gene Simmons doesn't have sex four times a week...wow...OK...so it is painful?"

"No, it's good."

"How good?"

"Really good."

"I'm going to be sick. OK, what else?"

STEP J: When you hit resistance because the bias is now being matched by the "other side of the coin," stick to it.

"More?! Why more? He's been a jerk and we're sitting here talking about his good points. My god, who cares what his good points are. I mean he can be so crass and rude. He shows no respect. He is arrogant, histrionic and a narcissist."

"While you're having sex, when he's at work or when he's taking care of the kids and you come home to see his relaxed smile, or when you're playing games?"

"Who's side are you on, anyway?"

"I'm on your side. I just want you to be as happy as you can be."

"I'd be a lot happier if I were on a plane to...to....Paris."

"You and the kids in coach for 16 hours. Sounds fun. OK what's the best thing about him in your relationship? One thing that you haven't said."

"You don't give up...OK...he buys flowers and cards and things like that on days when there's nothing special going on."

"You serious?"

"Yes...."

"No one does that in 2013."

"Oh my god, you are on his side."

STEP K: When resistance to the decision-making process becomes too great, immediately switch back to the biased side. Suggest possible facts.



Whose side are you on?: Page | 1 | 2 | 3 | 4 | 5 | 6 |



Kevin Hogan
Network 3000 Publishing
3432 Denmark #108
Eagan, MN 55123
(612) 616-0732

Photos appear under license with Stockexpert.

Cool Article?
Get Coffee with Kevin.
Articles, events & more!
+ 2 Free e-books today!
E-zine delivered Mondays.

"Every week, Coffee with Kevin Hogan is a must read. I particularly liked your article on the Can-Doers and the No-Doers. Thanks!"
Sharon McGann, Sydney