The Korea Interview:
Marketing You
Kevin Hogan, interviewed by Sean Yoon, an editor of Unitas BRAND in Korea

Page 4

8. Could you please recommend practical ways to make the best use of your book for branders and marketers? For now, this supreme book is focusing on the salesman.

I've written six or seven books that are important for branding and marketing. The Psychology of Persuasion, The Science of Influence, Covert Hypnosis, Covert Persuasion, and Selling Yourself to Others come to mind immediately. Each book covers a different aspect or series of factors that are crucial to branding and marketing success.
In The Psychology of Persuasion, for example, there is a short section that is worth a thousand times the price of the book. The section is called "Meet John Doe." John Doe is a reference in the United States to "any man" or "every man" or someone who has died but can't be identified by the police. In the 1930's there was a movie called Meet John Doe. The story was that of a hobo who eventually would go on to run for President through public relations, with the special theme that this man is like you and you need to be represented in Washington DC.
In the book, I talk about the common and powerful traits that most people have that if you were to say them to a person, they would think you were reading their mind. Every marketer and branding expert should have that page TAPED to their desktop.
The focus of The Psychology of Persuasion is from the vantage point of the Salesperson for the most part. But it is no stretch to take that to marketing because sales is marketing and marketing is selling with very few major distinctions involved.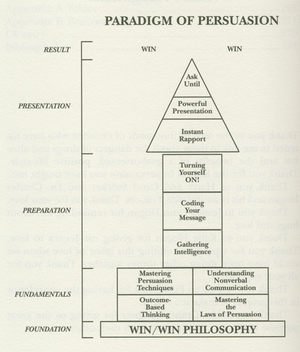 The Diagram that is consistent throughout the book looks like a rocket on a launching pad. And that is a great metaphor. Interestingly the diagram was not created because of a rocket. It's actually a phallic symbol. About 15 years ago, right before the book went to press, I thought, "let's just see if all this subliminal stuff I've been reading about might actually work." So instead of some other diagram, I organized the structure of persuasion into a phallic diagram.
My speculation at the time was that such a diagram, not obvious, but subtle...would trigger people to keep the book after picking it up and looking at it. That has turned out to be the case, as the book has sold more than a million copies worldwide, making it the second greatest selling book on persuasion.
Within the diagram itself is the process of persuasion. It begins with understanding what you want out of an interaction, causes you to consider what your client or potential client wants, and then takes you through a very step by step, structured process to complete with a Win/Win or No Deal result. There is no benefit to sell someone something they don't need, or perhaps want. (Sometimes what people want is not good for them.)
9. We think Branding is also a kind of persuading process via a certain message shown consistently. In this respect, all the branders and markers should know well about the notion of 'Persuasion'. So, could you please interpret your diagram 'persuasion paradigm' in a branding (or marketing) sense?
Branding starts with persuasion, but it is really more about causing addiction. It is the relationship between a person and another person or the relationship between a person and a thing. The relationship causes pain/fear reduction or pleasure increase or both. Persuasion, of course, triggers those two things but branding keeps it cemented in the person's mind, their being.
10. You are introducing the 'persuasion paradigm' as a very powerful tool to get 'WIN WIN' for both parts (sales man & client or supplier & demander). We can fully agree with it, and we would like to go one step forward, setting a hypothesis like that: "a brand could be in the middle of getting this 'WIN WIN' process because a brand might be a proper object to sublime id(or libido) in a good way". How do you think about it?
If your product enhances someone's life, causes them to feel connected to a group, to have an identity or to identify with some other person or group....if your product causes people to have fun or be scared (Horror Movie) then leave the theater knowing you experienced safe...fear..... If your product creates value in a person's life.... then your product or you stand between you and your client, you and the person you are serving and it is the glue that cements the two of you together. Your hypothesis is correct.
---

Changing Minds with New Mental Technology is now required. This is the Genesis of that Mental Technology.
Covert Influence:
The Hidden Persuaders… Strategies
No One Has Ever Even Thought Of
The research unveils what works and what doesn't, and I'm ready to share it with you…

Are you ready for it? Study after study shows that tapping into human emotions is tantamount to success!

What are the details?

On 7 CD's, you can listen again and again to burn these new concepts, skills and tools into your mind.

Never before released on audio or in book form, this information is freshly tested and scientifically validated.

If you remotely wonder if that statement is correct, think about all of the money major corporations spent on advertising, marketing, promotion, sales and they are now bankrupt.

...It takes specialized knowledge and "digging deeper" to get where you need to go these days...

Getting people to "yes," has never been more difficult in your lifetime than it is today. It's going to be more difficult as people's innate defense mechanisms create a shell around their decision making faculty.

...What Does This Mean for You?

"Delay", "wait", "not yet", "being careful", "I'll think about it", and all of the other "tomorrow" messages are emanating from all directions.

I tried to fit this on 6 CD's so it would fit the containers we invested in.

No luck! (Fortunately for you.)

This is a lot of information and it just got a little bigger than I guessed.

How "good" is this program?

It's on par with my best work.

No one else has this information except, now... you.

I want to show you one of the most surprising and perhaps one of the uncomfortable....powerful phenomenon in Covert Influence.

In fact, I want to share with you all the latest research available (well, almost all…!)

Influence Without Resistance. What's the Key Factor? You'll have most amazing, truly stunning tactics in predicting what and how your client (spouse, child, customer, read: anyone) will choose. Thus, you are a step ahead of anyone else in implementing the most powerful phenomena in consumer research today. Find out with this program!

Creating Irresistible Impulse. The button is there (for everyone); it just needs to be pushed. What are some of the irresistible impulses marketers are using on you? How can you take advantage of these tactics yourself? It's all here in this section. Kevin details the marketing phenomenon that pushes the buttons...all the way to irresistible.

Tapping into Human Desires & Emotions. With just ONE change in strategy, a non-profit organization can get 5 times the donations. What can this strategy do for you? You can't afford NOT to implement this tactic now.

Desires and Emotions… That Influence. You've heard some rumors, I'm sure about negative emotions and positive emotions in the influence process. But do you know what actually works, and what to emphasize in the process, and when? Find out once and for all!

Tribes. You've heard the term. What does it describe? How does it come into play in the influence process? Most important, how do you utilize the concept of the Tribe in order to make more sales? It's all here… Kevin explains about subgroups and how to make appeals based on whether a group is "in" or "out". This is cutting edge research that benefits you.

Covert Influence...to Control Behavior. You've seen the signs. Above the candy jar, tacked to the break room wall. Even posted on a fence, or highway. How do signs really influence? What elements should be used in signs to covertly control behavior? Fascinating new research uncovered for you!

Track Listing

Covert Influence: The All New Hidden Persuaders

CD 1Influence Without Resistance

Track 1 09:58 Who is on the wall?
Track 2 10:07 Primes/Identity Related Triggers
Track 3 10: 01 Two Core Principles
Track 4 10: 02 Covert Conditioning
Track 5 10: 07 Letter Proxemic Effect
Track 6 07:19 "I" Power


CD 2 Creating Irresistible Impulse

Track 1 10:05 The Reward Phenomenon
Track 2 09:59 Covert Influences
Track 3 10:02 The Nagging Compulsion for Completion
Track 4 10:02 Importance of Possession
Track 5 09:59 People want to be influenced?
Track 6 06:07 Importance of "Presentation"

CD 3 Tapping into Human Desires & Emotions

Track 1 09:59 Hidden in Plain Sight
Track 2 10:01 Ask for the time, and you get...
Track 3 10:04 Who Benefits?
Track 4 10:04 An Important Hidden Element
Track 5 08:38 Tribes


CD 4 Covert Influence to Control Behavior

Track 1 09:59 Signage to Control
Track 2 10:05 Triggering Neural Connections
Track 3 09:58 Choices, How many is too many?
Track 4 10:05 Hallmark Factor: The Power of Interruption
Track 5 11:26 The NEW Power Words


CD 5 Subliminal Influence


Track 1 09:58 Time is …?
Track 2 10: 01 Subliminal Effects
Track 3 09:54 Trigger Points
Track 4 10:05 Channeling Sexual Energy/Sexual cues
Track 5 10:03 Test Your Knowledge
Track 6 13:31 Anticipated Regret


CD 6 Things That Make Your Head Spin

Track 1 09:56 Instant Drama Resolution Covert Influence Technique
Track 2 10:02 Emotional Drama
Track 3 10:06 Lessons from a Dancer...
Track 4 09:54 So What Causes Dancers to Make It Big?
Track 5 10:09 Core Mindset Shifting
Track 6 04:59 Required Rituals of Influence


CD 7 Getting Them to Say, "Yes!"


Track 1 09:53 Differences Between Men & Women
Track 2 05:07 When Do Women Let Down Their Defenses?
Track 3 05:01 Lap Dancing and Covert Influence
Track 4 05:01 What's Most Important in Influence?
Track 5 10:03 THE Most Important Factor in Persuasion
Track 6 09:56 Motivation for Change
Track 7 07:59 Working Inside How Do People Actually Decide

Plus...
Number of Choices Influences...
The Power of Interruption
Surprise and Novelty Influences...
The Power of Words...and SO MUCH MORE!
Will you take advantage of this offering?
Or, will your competitor grab up his copy and start selling from under you? Do you dare put this off?
Take advantage now of this offer, it may not come your way again. This is a limited quantity pressing.
Included: Guidebook for Implementation Strategies on CD, plus 7 beautifully produced Audio CDs
You get EVERYTHING you will need to know about influencing others with hidden persuaders.
Get Your Copy of Covert Influence Now
---

Return: Page | 1 | 2 | 3 | 4 |


Kevin Hogan
Network 3000 Publishing
3432 Denmark #108
Eagan, MN 55123
(612) 616-0732

Photos appear under license with Stockexpert.