The Center of Influence
Kevin Hogan
The Center of Influence: The Missing Ingredient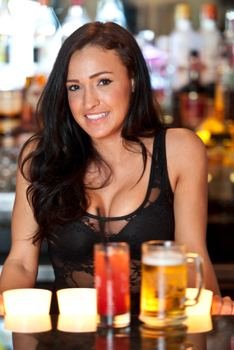 Most anyone can serve a drink, right? Why is that a lot of (smart) bars and restaurants have the most attractive bartenders? In this article, I'll explain exactly why.
What most people who try to "be influential" miss is that they often tend to focus solely on the "Value Model" of Marketing or Selling. In other words - that people buy for value.
This, of course, is a useful model. But in the strictest sense, it breaks down.
Now before we begin, let's briefly note that giving VALUE is one of the most important factors in building long-term relationships in business and in your personal life. Most everything in life is about a value exchange in one sense or another.
Giving value is your priority. It's mine. It's everyone's who is "good" in life and in business.
KEYPOINT: That said, selling and buying isn't just about perceived value. It's just as often about EXPERIENCE and EMOTION.
Buying Experience
Experience...is the feeling you get as you walk around at Disneyworld and the real world disappears. It's a fantasy experience. It is designed to cause you to FEEL good. The "Value" of Disneyworld itself is utterly arguable.

What's powerful are the emotions triggered in Disneyworld that CAUSE us to want to bring the kids back again and again. It's why people no longer visit Disneyworld for one day...but one week.

It's the experience. The feelings triggered.

That's Influential Power!

Last week I was in Las Vegas with my good friend Rob. I stayed at the Palazzo and he stayed at The Venetian just to be difficult. Being the nice guy I am I walked ALL THE WAY OVER to The Venetian to meet up with him for our first session of playing cards. I would have preferred going to Planet Hollywood where the dealers are so...so...so...that you don't really care if you win or lose.

That reminds me. Do The Great Persuasion Quiz of 2012 this week!

...As you walk into the front entrance of the Venetian Hotel in Las Vegas, you are transported in time and space and are certain that you are walking into the most luxurious hotel in Venice...or so the fantasy so strongly convinces. As you walk down the magnificent corridor whose ceilings evoke the wonders of Michaelangelo and da Vinci, it's hard to not just "look up" and try to "walk straight."

It's breathtaking...but it's more than that...it's *power.*

The Venetian successfully takes you out of the context of the real world...the tired traveler...and places you into one that is completely different...and now you are the person experiencing WOW!

And so it is...

But what if you don't have a two hundred foot walkway with magnificently painted ceilings?

How do YOU grasp the Center of Influence?

Let's let that question sink in...

Back to The Venetian for a moment...
As if one illusion or fantasy isn't enough, you soon make your way into the casino, which takes you into yet another world.
The stunning waitresses stop foot traffic as they walk by or stop by your table, collecting plenty of tips. Yet another fantasy experience ripe with emotions is wired into the neurology of the brain.
Next up? You take the elevator up to your suite and find the reason The Venetian/Palazzo Hotel is ranked one of the top 100 hotels on the planet. It's also the largest as the two hotels are connected. Your room is simply breathtaking.
You are now a visitor on a different planet...you started at the airport...and ended up three worlds removed....

What's the Recipe for YOU to create Experience?


---


Kevin Hogan
Network 3000 Publishing
3432 Denmark #108
Eagan, MN 55123
(612) 616-0732


Photos appear under license with istockphoto/Juanmonino and PRPhotos.