MENU

Home




For info on
How to bring
Kevin Hogan
to your Company
Motivational Speaker



Copyright 2011
Kevin Hogan
All Rights Reserved







E-Mail Us


Kevin AT KevinHogan DOT com






Kevin Hogan
Network 3000 Publishing
16526 W. 78th St. #138
Eden Prairie, MN 55346
(612) 616-0732








Are You In Their Head and Their Hand?
By Kevin Hogan

Page 3

KEYPOINT: I want you to ponder the notion of having your own cell phone app. Your own cell phone app is literally opportunity ringing.

The average person has close to 100 apps on their cell phone...and that number is growing daily.

As you move to the Cloud, the number of apps you'll be able to store on a phone will be limitless.

But as a marketer, think this: Just as being on Google page one was where the money was, being an app that is USED, and thus on the front screen, could be a huge hit for your future.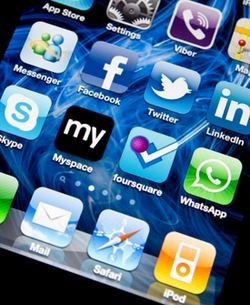 So your app would need to be cool.
75% of apps in the top 100 are free.
Half of the apps are games.
What else is in the top 100?
Facebook
Skype
Netflix
Ibooks
Pandora
Groupon
Craigslist
Turnmyphoneintoaflashlight
Weather
Music
Google Earth
Ebay
Calorie counter
Stuff that is about your client, connection, communication, entertainment and useful things.

But within each individual's phone, there is also something unique to them...a link to their strongest interests.
The stocks for the day trader.

The airline schedules for the frequent travel.

GPS tracking for parents.
www.techpp.com reports on this growth trend...

"....free-phone-tracking...You might think of a GPS unit as the easiest way to get driving directions while commuting. But do you realize the other uses of it?
Parents can use them to monitor their children.

Friends can use them to keep up with one anotherís hangouts.

Travelers can use them to find local information and directions wherever they are.
Mobile phone tracking or Cell phone tracking or simply, GPS tracking, is the process through which a functioning cell phone is detected and localized on the globe (even on the move!)

First, the Cell phone tracking system detects the closest cell phone tower to the phone, estimates the distance between them, and after that it interpolates signals between adjacent antenna towers to make a more exact approximation.

The site goes on to list 6 free apps to add GPS tracking to cell phones.

And you?



The new cutting-edge in marketing?...



Continue: Page | 1 | 2 | 3 | 4 | 5 |


Kevin Hogan
Network 3000 Publishing
16526 W. 78th St. #138
Eden Prairie, MN 55346
(612) 616-0732

Coffee cup photo appears under license with Stockexpert. Article photo appears under license with istockphoto/MerveKarahan.

Cool Article?
Get Coffee with Kevin.
Articles, events & more!
+ 2 Free e-books today!
E-zine delivered Mondays.

"Kevin, your knowledge is worth pure gold, 99.99%! You give genuine, critical, life-directing information. I opted out from almost all self-help-success-secret-etc ezines, except for your Coffee, because it is really valuable. Thank you and please continue."
Daniel Naskov, Macedonia