MENU

Home




For info on
How to bring
Kevin Hogan
to your Company
Motivational Speaker



Copyright 2011
Kevin Hogan
All Rights Reserved







E-Mail Us


Kevin AT KevinHogan DOT com






Kevin Hogan
Network 3000 Publishing
16526 W. 78th St. #138
Eden Prairie, MN 55346
(612) 616-0732








Are You In Their Head and Their Hand?
By Kevin Hogan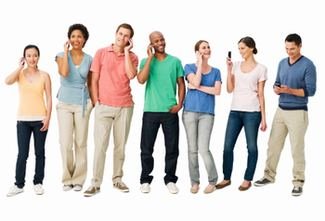 You are leaving home.

What do you never leave home without?

Forget American Express.

These days, you are taking your cell phone. So is everyone else.

At least 91% of Americans have them. That was as of the end of 2009....the percentage is probably higher now.

Diane Sawyer (ABC News) reported, "Want some insight into American life in 2010? Then just listen closely to the cell phones. Those buzzing, beeping, ever-present devices have a lot to say about modern society, according to new data released by the Nielsen company. Every month, the data-tracking firm goes through phone bills from 60,000 people all over the country, breaking down cell phone and text usage by gender, race, age, and even region, with some interesting findings."

Such as?

Women use them more than men. (22% more cell phone minutes and 154 more messages per month).

"Pretty much everyone has a cell phone these days," said Jonathan Carson, CEO of Telecom for Nielsen.

"We're reaching a point where we'll have more than 100 percent penetration because people carry multiple devices."
Cell Phone Evolution
The cell phone has become more than just a way we communicate. It is the holder, conduit and stimulator of our emotions.

Good and bad news are communicated through the cell.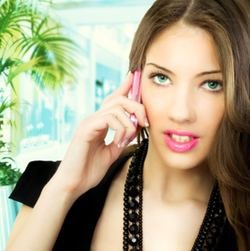 The girl you were interested in is calling back.
The company you want to work for, wants you.
Your friends are getting together and asking you to join them.
That's the good news. You also learn of breakups and other disappointments this way, as well.
So, that cell phone "holds" all your feelings...but it's even more than that...
Your Phone Has Become YOU
It's how you send information beyond just calling as you did on, dare I say it, THE LAND LINE. Twenty five years ago, the goal of communication on the phone was to sound close up and be crystal clear. Today that's not the case. It's not the quality of sound that matters. It's all the other attributes of what is now a phone.

Now you can text, and you can do it under the table and no one even knows if you are sending sweet nothings or scathing remarks.

You send pictures of your kids, your pets, your vacation, yourself. Fully clothed to most people, I hope.

You express yourself with your phone....you whisper outside the hospital, you yell on the street.

You play games.
It has the apps on it that define you...

Want to be suave at the restaurant? There is an app that translates all the foreign food into English.

Want to know how high you should bid on that auction item? There is an app to let you know what it is selling for right now on Ebay.

Want to know the current exchange rate for pounds to dollars? The price of gold?



The cell phone has actually become...



Continue: Page | 1 | 2 | 3 | 4 | 5 |


Kevin Hogan
Network 3000 Publishing
16526 W. 78th St. #138
Eden Prairie, MN 55346
(612) 616-0732

Coffee cup photo appears under license with Stockexpert. Article photos appear under license with istockphoto/Newstockimages and istockphoto/dardespot.

Cool Article?
Get Coffee with Kevin.
Articles, events & more!
+ 2 Free e-books today!
E-zine delivered Mondays.

"Kevin, your knowledge is worth pure gold, 99.99%! You give genuine, critical, life-directing information. I opted out from almost all self-help-success-secret-etc ezines, except for your Coffee, because it is really valuable. Thank you and please continue."
Daniel Naskov, Macedonia