MENU

Home




For info on
How to bring
Kevin Hogan
to your Company
Motivational Speaker



© 2009
Kevin Hogan
All Rights Reserved







E-Mail Us

Kevin AT KevinHogan.com








Kevin Hogan
Network 3000 Publishing
3432 Denmark #108
Eagan, MN 55123
(612) 616-0732








Body Language 101
The Science Behind Silent Communication
You Magazine interviewed Kevin Hogan. This article appears in a recent issue.
We use a variety of methods to communicate with those around us. Verbal and written exchanges seem to be the most studied and, in turn, the most well-understood. But, there is another method we use to communicate our thoughts. And, while it is effective, it's a medium that doesn't get the attention it rightly deserves. That being said, welcome to Body Language 101.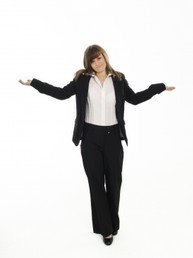 We've all heard the term, "body language", but what is it? More importantly, how does it affect our verbal communication with others? We sat down for an interview with an internationally-recognized body language expert to see if we could find out.
About the Expert
Kevin Hogan began studying body language when he was just a young boy. Growing up in Chicago in a poor family, Kevin began working at the age of 11. He did everything from cutting lawns to shoveling snow, but it was his job selling greeting cards that opened his eyes to the art of silent communication.

"I figured out very quickly that I got much better results by engaging people," says Kevin. In addition, he says it wasn't just about the words he said or his ability to listen. According to Hogan, it was also about how he conducted himself physically.

Hogan's analysis came full circle when he took a class in non-verbal communication while attending school at the Unviersity of Wisconsin. Through studying the subject and taking part in various projects and clinical studies, Hogan's suspicions regarding the power of body language were confirmed. The problem was there weren't many other classes of this kind.

This was a turning point for Hogan, as he began studying the subject of body language on his own. He read everything he could while also conducting his own research. By 1998, and continuing for the next 7 years, Hogan ran schools in both Minneapolis and Seattle, each dedicated to teaching and researching the subject.

Today, Hogan spends the majority of his time as a personal coach, professional speaker, and a business consultant. Companies – and even governments – frequently hire him to teach the subject of non-verbal communication. He is also a TV analyst, as his opinion on everything from celebrity interviews to Presidential Debates of high interest.



How important is body language?


Kevin Hogan
Network 3000 Publishing
3432 Denmark #108
Eagan, MN 55123
(612) 616-0732


Cool Article?
Get Coffee with Kevin.
Articles, events & more!
+ 2 Free e-books today!
E-zine delivered Mondays.

"Every week, Coffee with Kevin Hogan is a must read. I particularly liked your article on the Can-Doers and the No-Doers. Thanks!"
Sharon McGann, Sydney