MENU

Home




For info on
How to bring
Kevin Hogan
to your Company
Motivational Speaker



Copyright 2011
Kevin Hogan
All Rights Reserved







E-Mail Us


Kevin AT KevinHogan DOT com






Kevin Hogan
Network 3000 Publishing
16526 W. 78th St. #138
Eden Prairie, MN 55346
(612) 616-0732








Positive Affirmations: Can They Help You Overcome the Odds Against You?
By Kevin Hogan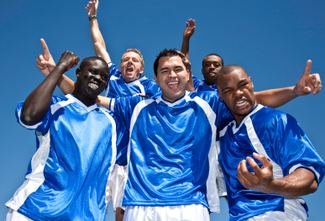 Where did the concept of "affirmations" begin?

If you or your team are already winners, you aren't going to be "affirming" your Self in some semi-honest fashion, correct?
The Underdog - Can He Overcome?
The great team plays an average team this week.

The average team's fans go wild. Maybe they have a chance at the title...but the average team doesn't seem to be exerting their best effort to defeat the excellent team. In fact, the excellent team seems to be playing better than ever, and ends up claiming the title yet another time.

But wait a minute.

Don't teams "play up to their competition?"
Do Affirmations Have Power?
Doesn't the underdog work harder to win?

And if not, what about using affirmations? Certainly, affirmations would do the trick...

I mean...after all...EVERYONE KNOWS affirmations, especially positive affirmations, cause you to win, make more money, be smarter and even better looking...right?

Robert Lount of Ohio State and Nathan Pettit conducted a study at Cornell University, seeking to explore issues in motivation.

They found that members of a superior group will work on average 30% harder when competing against inferior groups, while the inferior groups will work less.

This seems counterintuitive at first.

Why would the superior, higher status group work harder when they probably don't have to?

Why wouldn't the inferior, lower status group want to work harder to perhaps win the competition?


Kevin Hogan
Network 3000 Publishing
16526 W. 78th St. #138
Eden Prairie, MN 55346
(612) 616-0732


Coffee cup photo appears under license with Stockexpert. Article photo appears under license with istockphoto/asiseeit.





Cool Article?
Get Coffee with Kevin.
Articles, events & more!
+ 2 Free e-books today!
E-zine delivered Mondays.

"Kevin, your knowledge is worth pure gold, 99.99%! You give genuine, critical, life-directing information. I opted out from almost all self-help-success-secret-etc ezines, except for your Coffee, because it is really valuable. Thank you and please continue."
Daniel Naskov, Macedonia