The Achievement Factor
Kevin Hogan

Page 5
The Self Confidence Balance: The Fourth Factor of Achievement
Eliminating Overconfidence
If it wasn't the rain and the wind, it was probably a failure in overconfidence.
The great destroyer in reaching for achievement is arrogance. Overconfidence. People who are TOO confident succumb to worse problems than people with little confidence.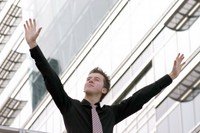 And self-confidence is very important to achievement. We'll talk about that next week. Overconfidence is driving so fast you can't control the car when random events happen. Confidence and overconfidence are two different worlds.
In football, the overconfident get injured. They get beaten because they didn't put out 100%. They were taking it "easy."
Overconfidence on the highway causes head on collisions. Overconfidence in sex creates babies and AIDS. Overconfidence in relationships creates broken relationships.
Overconfidence and arrogance are things you and I need to keep in check.
"There is a fine line between Chaos and Creation."
Paul McCartney
That's a line from Paul McCartney's album Chaos and Creation in the Back Yard. It says a lot. Yes, I like this quote. A lot.

There is a fine line between self-confidence (an absolute necessity) and arrogance. One wins. The other loses. Overconfident people can't make it to the Super Bowl.

Every winning team I've seen in sports says this about their opponents, "THEY are a talented and tough football team and we will work HARD to prepare for them."

That is the attitude.... that is a positive mental attitude.

Goliath should never overlook David. Goliath should never underestimate David.

Achievement is the result of the RIGHT mental attitude.

"We're going to win," is a very risky attitude.

"We know it is going to be tough but we will play every down to the very best of our ability and I believe we can and likely will win today."

As soon as you declare something that sounds like a fact, you better be right because your unconscious mind is listening. I'll share with you some secrets in my next article in The Achievement Factors series.

Stay tuned!




---

Attend an online e-course with Kevin Hogan!

Learn about Kevin Hogan's Internet Marketing & Business Building E-Course

Details:
About Internet Marketing & Wealth Building
---

Return: Page | 1 | 2 | 3 | 4 | 5 |


Kevin Hogan
Network 3000 Publishing
3432 Denmark #108
Eagan, MN 55123
(612) 616-0732